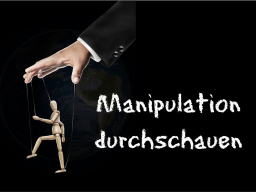 Manipulation - durchschauen und sich schützen!
In Experten-Webinar > Körper & Geist
Location:

Live webinar

Price:

47.00 €

Number of participants:

maximum 50

Application deadline:

15 minutes before the start

Language:

German
Manipulation, die Beeinflussung ohne dass es bemerkt werden soll.

U.A. drei wesentliche Punkte, die Dir helfen,
Dich nicht manipulieren zu lassen:

1. Verstehe, wie Dein Gehirn funktioniert.
Nur dann kannst Du bewusst ungewollte Gedanken abweisen.

2. Lerne die gängigen Manipulationstechniken kennen.
Wenn Du diese durchschaust, kannst Du der Wahrheit näher kommen.

3. Habe Mut, selbst Fakten zu sammeln und
Deine eigene Wahrheit zu leben.

Im Webinar werde ich Dir erläutern, was gerade vor sich geht. Das hat gar nicht so viel mit Verschwörungstheorien zu tun, sondern vielmehr mit dem Verstehen der Entwicklung des menschlichen Bewusstseins, der Ängste, die auch Entscheider gerade bremsen. Doch es gibt auch eine gute Nachricht bei allem, denn die Lösung des aktuellen Problems ist eigentlich einfach und Du kannst es zunächst für Dich angehen.

Great your own Economy now!